A B I G W O R L D
THE NEW POP TOP CAN IS HERE
THE EXTENDER PULL TAB
Patent Number: 5,497,896
Find a Better Way at ABIGWORLD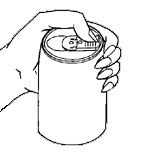 CAN YOU GUESS WHO WILL GET IT: COKE OR PEPSI ???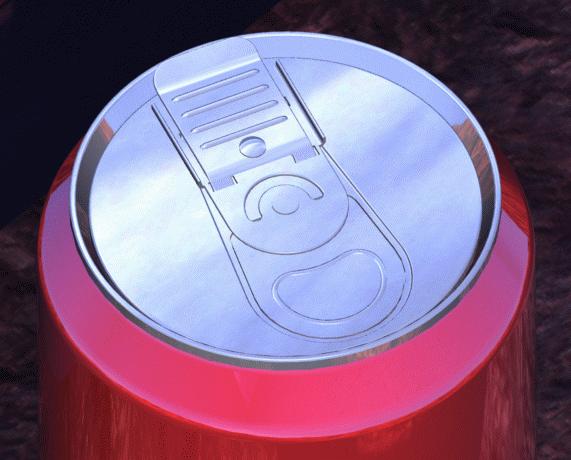 This WEB page is to introduce the new "EXTENDER TAB".
The EXTENDER makes it much easier to open a can.
---
WHAT IS THE EXTENDER TAB ?

It's a new tab that makes opening a beverage can much easier by reducing the force necessary to brake/open the lid when pulling the tab upwards. The new tab extends beyond the rim of the can.
To open a can with a regular tab you have to use the tip of your finger or your nails (or some other object) to separate the tab from the lid, grab the short tab and pull it upwards.

The first version of the Extender is a tab that slides on top of a fixed tab. The upper sliding tab is pushed with one finger to the outside of the diameter of the can making the distance of this new tab much longer than a regular tab.

The second version of this new tab rotates 180 degrees on the top of the lid of a regular can and extends to the outside of the diameter of the can. The new tab is made of a fixed tab that is riveted to the center of the lid (top of the can), to this fixed tab (lower tab) , a secondary tab (upper and rotating tab) is riveted to the lower tab (this is the pivoting point of the upper tab). When the tab is fully extended it reaches its maximum length and maximum leverage arm to open the can with less force and with an easer grab of the tab.

Some of the people that would prefer this new tab are:

Women with long nails, small children, older people, people with delicate nails or fingers, people who bite their finger nails, people who are driving and only have one hand available to open the can; people with some types of hand diseases (ex. arthritis, eczema, etc.).

MANY PEOPLE WANT TO TRY IT OUT BECAUSE IT'S COOL !!!
Drawings of the EXTENDER:
Questions ??? E-mail Ronnie Shand at My E-Mail Box

How do you want to open your Pop today ?

Ronnie A Shand
18771 Still Lake Drive
Jupiter, Florida 33458